Saturday, June 26, 2010
Unlike in the United States, where the press is perceived as a watchdog, in Italy it is perceived as driven by political agendas.
So perceiveth the agenda-free New York Times.
Posted by

Gary Cruse
at 5:48 PM
No comments:
Links to this post


Tuesday, June 15, 2010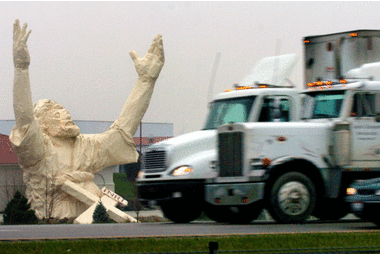 A 62-foot Jesus statue was destroyed by lightning Monday night in Ohio. This file photo from November, 2004 shows the six story high statue of Jesus under construction. The Jesus statue was made of plastic foam and fiberglass over a steel frame.
Posted by

Gary Cruse
at 5:10 PM
No comments:
Links to this post